Windamere Dugmore's Banjo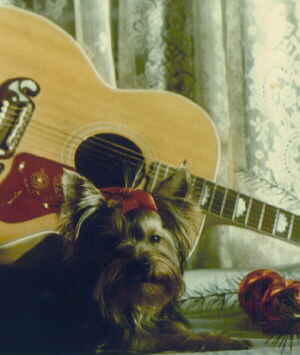 One of the happiest days of my life was the day I went to the airport and picked this little guy up. Jim Nickerson had sent him to me from Muncie, Indiana, and it had been a long and frightening day for a little puppy. I remember taking him out of his crate and letting him ride on my lap for the long trip home from LAX to our home in West Hills a suburb of Los Angeles. I sang "Oh Susanna" to him all the way home as he slept quietly on my lap. Oh I changed the words and sang "he came from Indiana with a Banjo on his knee".

That was his song for the next 15 1/2 years until the saddest day of my life when he looked at me as if to say "Okay Mom it's time" I understood what he was telling me and again put him on my lap and bravely drove him to the Vet singing his song to him only this time with tears rolling in rivers down my face as they are again right now.

But a very special thing happened on the way, I felt him fall into a deep sleep and become just a tiny bit heavier on my lap and I knew he had left me. After the Vet had confirmed his passing I took him back home where I knew he'd want to be and placed a cement Teddy Bear on his grave.

With Banjo I learned something new about values, friendship and dignity. My mentors back then were a God Send and I will never forget them. They taught me things about the Yorkshire Terrier that I will never forget. This site is partly for them and the wonderful memories I have of them and for the lessons they taught me. Jim Nickerson, Nell Fietinghoff, Ann Goldman, Aileen Martello, and Anne Seranne & Barbara Wolferman. All of them taught me something about this breed that has kept me here for over twenty five years and still loving it.

This site is for the "new" person looking for answers to questions that are harder to find these days. I'm hoping that I can put enough information here that if you're starting today you will find enough of the right information that you will want to spend the next 25 years of your life loving and learning about this wonderful little dog.

---
©2015 / Dugmore
Please do not take anything from these
pages without the owners consent. Thanks.